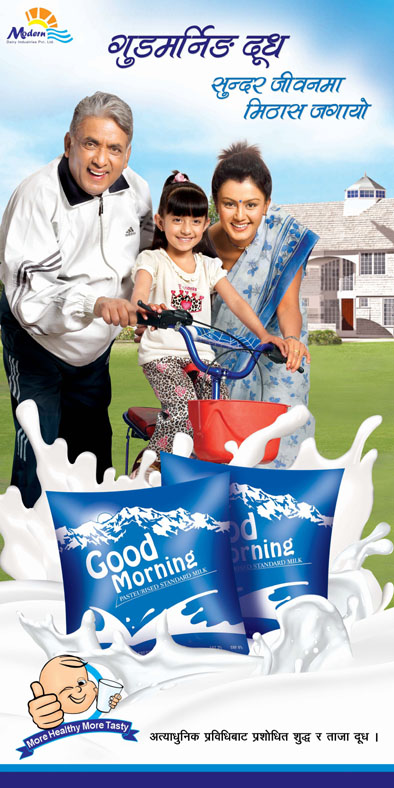 Modern Dairy Industries
Modern Dairy Industries Pvt. Ltd. is a professionally managed company engaged in the manufacture of a wide range of Dairy Products that include Pasteurised Milk, Yougurt, Butter, Paneer, Ghee and Butter Oil both in bulk as well as in consumer packs. Established in the year 2007 under Companies Act 2006, Modern Dairy Industries Pvt. Ltd. is one of the fastest growing Private Sector Enterprises in Nepal with a team of dedicated professionals.

The company has one of the most modern and versatile plants in the Nepal Dairy Industry with state-of-the-art technology. Modern Dairy Industries products meet stringent quality control tests and cater to the niche segment of the market for Dairy Products. Modern Dairy Industries Pvt. Ltd., is presently implementing an expansion program and proposes to launch new products in the near future which will include Ice Cream, Flavored Milk, etc. Modern Dairy Industries Pvt. Ltd. sells a rich, varied offering of nutritious, tasty and healthy milk products under well-known brand of "Good Morning" and "Modern" registered trademark. Our milk comes from cattle herd that receive the best care along with healthy and nutritious diet in the form of quality feed to ensure that they produce wholesome, high-quality milk through a strong network of chilling centers. The major contributors to the success of Modern Dairy Industries Pvt. Ltd. are-.

Superior Quality Product
Milk Procurement Network
Superior sales and marketing prowess
Strategic technological & infrastructural advantage
Efficient human investments
Within a very short span of time, the company has earned recognition in Kathmandu, Lalitpur and Bhaktapur as one of the leaders in the retail shelf for various Milk Products and the efficient supply chain management of the company. We have seen a year on year growth sales for our products because of the company's vision of consistency in the product quality and taste.
Contact Us
Modern Dairy Industries Pvt. Ltd.
Gundu-7, Kiwachowk, Bhaktapur, Nepal
Tel.: +977-1 -6636585
Fax: +977-1- 4250130
Email: info@mdinepal.com
Web: www.mdinepal.com